Primarily a mountain resort where "Rustic Meets Luxury," Tagaytay Highlands is a mixed-use project established in March 1994. Willie Ocier of Belle Corporation conceptualized it. Ocier thought of a life that he always wanted for him and his loved ones—a concept that he found acceptable even among the young professionals. 
Hence, Tagaytay Highlands became a place for people living in the metro but are looking for a well-deserved respite away. Even for a short while.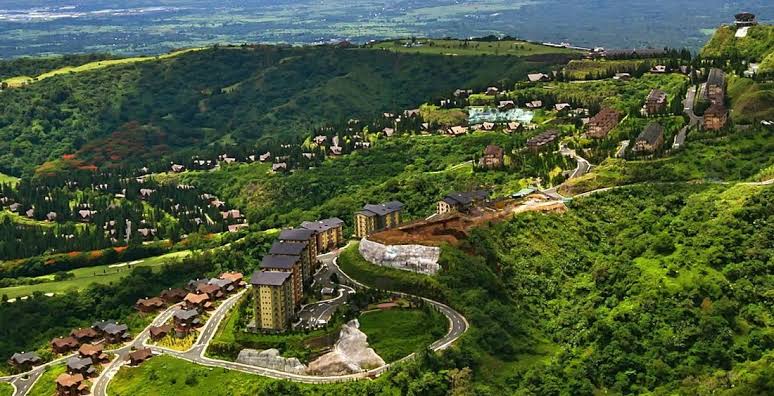 The late Henry Sy inspired Ocier to invest in the real estate development industry. Sy also predicted that Tagaytay would become the next important recreation center. However, he declined to be a part of Tagaytay Highlands due to the rugged terrain of the location.
Ocier's vision of the mountain resort pushed through, despite Sy's refusal to invest in it, with the help of the support of his father, Benito Tan Guat. Ocier also partnered with Roberto Ongpin.
Residential developments inside Tagaytay Highlands
Tagaytay Highlands is home to exclusive, themed residential communities against the backdrop of the lush mountain range and tranquil lake. There are condominiums and lots as well as log cabins.
Log cabins
The Woodlands and The Woodlands Point solidify the point that Tagaytay has the best mountain ranges. The best part is these mountain ranges can be transformed into a world-class residential mountain resort community without spoiling the verdant surroundings.
The Woodlands headlines Tagaytay Highlands log cabin communities, occupying a 26-hectare expanse of cinematic rolling terrain. The community is composed of authentic, well-designed, and ergonomically constructed log cabins from North America. Western red cedar, a hardwood emitting mountainous scent, are used. Completing the cabins are knife-finished logs, wipe-and-shine floors, and maintenance-free roofs.
The community offers the best panoramic views of the Highlands Golf Clubhouse, the golf course, and the countryside. Thousands of pine trees help create the cool mountain top ambiance.
The Woodlands Point, on the other hand, is a community consisting of modern ski resort-inspired log cabins. They are designed to complement the natural landscape of pine forests and mountain ranges. 
It is located in one of the highest points of Tagaytay Highlands; hence, its name. It also overlooks the golf course as well as Canlubang countryside and Laguna de Bay.
Lots
Today, there are at least three residential areas within Tagaytay Highlands, namely Highlands, Midlands, and Greenlands. 
The Highlands is home to Woodridge Place, a nine-tower condominium complex. The architecture and overall design of the buildings drew inspiration from the ski lodge buildings found in Colorado, USA. Aspenhills is also located inside the Highlands. It is an exclusive community patterned after mountain resort towns of Aspen, Colorado.
The Midlands features residences inspired by the architecture of various countries. One residence is called Yume, which is loosely based on the famous Katsura Palace found in Kyoto, Japan. Its tagline is "Zen Living at Its Finest." The other two themed enclaves in the Midlands are Vireya where one can "Live the Resort Life" and Sycamore Heights where owners can "Come Home to Breathtaking Views of Nature."
The Greenlands is where life is approached holistically. It is the place for residents who desire a less complicated lifestyle. "A Seamless Blend of Nature and Modern Living" happens at Nob Hill. The community has a modern architecture with geometric linear designs. It features linear road parks and of course, a central park where the palm court, fitness station, trellis, gazebo, and a children's play area are found. Jogging paths are also scattered with the park and the nearby areas.
Condominiums
With its tagline "Nature Views at Every Turn," Horizon Terraces make up the condominium complexes that have characters of their own. The Asian-inspired integrated community offers residents with unobstructed views of not just the Mt. Makiling mountain range, but also the Midlands golf course and Central Park.
This is one of the reasons Horizon, another condominium project nestled on gently sloping terrain, is also called "A Modern Golfer's Getaway." It is a golfer's condominium, with well-planned minimalist units facing the golf course. In addition to the putting green and halfway golf bag lockers, the development has an infinity pool enveloped in well-manicured gardens.
Recreation centers inside Tagaytay Highlands
Tagaytay Highlands has a complete range of sporting facilities to support a variety of leisure activities. It has a swimming pool and basketball, tennis, badminton, and squash courts. There are a billiard hall and bowling alley as well. 
Tagaytay Highlands is home to a 45-hole golfing resort—a first in Tagaytay. It's called the Lucky 9 Golf Course, and it is just one of the two golf courses within the resort. These are Asia's most exciting golf courses.
Lastly is the children's playground.
Tagaytay Highlands is a destination of its own. Various leisurely pursuits are available at the clubhouse such as:
Pedal Go Kart Racing
Oxford Maze (hoverboard maze)
Sporting Arrow (archery)
Supersized Game Park (life-size board games)
Console gaming
Horseback or pony riding
ATV rides
Mountain trekking
Top destinations near Tagaytay Highlands
However, if you want to explore nearby tourist destinations, here are your choices.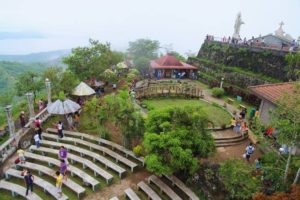 People's Park in the Sky. People's Park in the Sky overlooks the entire city; where it got its name. It is the highest point in the city that features wooden footbridges and gazebos overlooking Taal Volcano and Taal Lake. It also has a Roman-style amphitheater for guests to hold their events.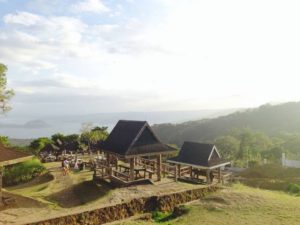 Tagaytay Picnic Grove. The grove has several features situated on the sprawling grassy hill. One can do ziplining, horseback riding, or cable car riding. Tagaytay Picnic Grove also has many shops to buy pasalubong from.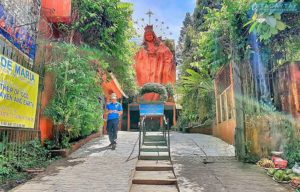 Tierra de Maria. A religious shrine that features a large image of the Our Lady of Manaoag, Tierra de Maria is not the usual church. However, it has a small temple beside the 50-ft statue.
Sky Ranch Tagaytay. An amusement park in Tagaytay, Sky Ranch houses several rides that are well-maintained to uphold the safety of the park goers. The Sky Eye Ferris Wheel is the park's most famous attraction that stands 63 meters above the ground. It also includes an aerial track, zip line, and grand carousel.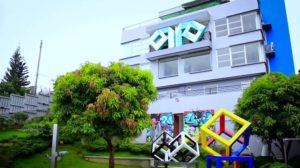 Museo Orlina. The art exhibition center is also a music center, an art gallery, and amphitheater. Museo Orlina features festivals with varying themes—from a music festival to street art sales.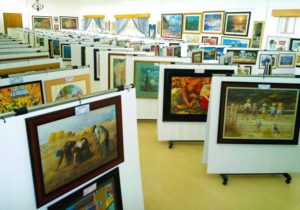 Puzzle Mansion. It is a mini-museum that has bed and breakfast too. Puzzle Mansion features the biggest display of configured puzzles. In 2012, it received an award for its extensive collection of puzzles in the world.