People visit a spa for several reasons. However, only the patrons know that spas are not only for beautification benefits but also for physical and mental benefits. That's why visiting a spa is a significant component of their healthy lifestyle.
If you are fond of a spa vacation, here are your choices of spas in Tagaytay.
Must-try newest spas in Tagaytay
Sonya's Garden is one of the most popular destinations in Tagaytay. It is known as a wedding and prenup venue and bed and breakfast. The newest attraction is Sonya's Botanicals, which is a chance to bring home the garden experience. There are bath soaps, shampoo bars, beauty oils, liquid soaps, and more.
Nonetheless, there is yet another perfect reason to go to Sonya's Garden. The spa offers its signature massage, a full-body massage that uses a combination of favorite strokes and lavender-scented oil. It also offers indulgent packages, combining services designed to invigorate the person from head to toe. 
Other offers are all-natural facials, body scrubs, and foot spa. Each session is capped by a refreshing basil dalandan tea. 
Treatment times are from 30 minutes to 2 hours, ranging from Php300 to Php3,500, depending on the chosen package and its inclusions or a la carte offers.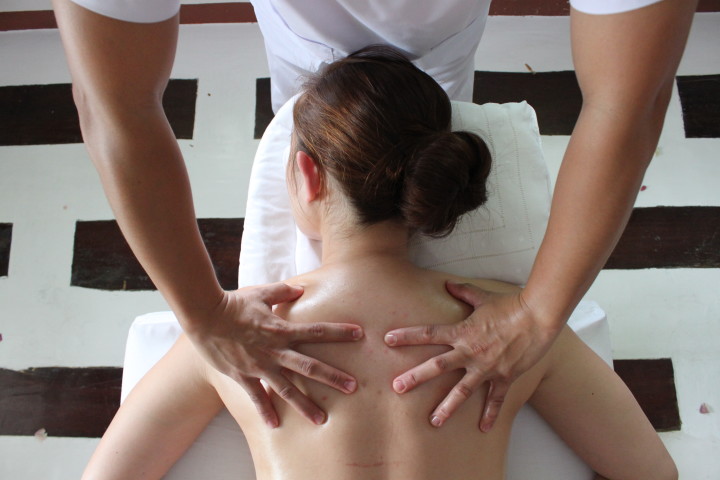 Source: Sonya's Garden
"Experience true therapy" is Qiwelness Living's philosophy. The spa house has a holistic approach that combines oriental healing techniques and modern therapies. 
Its services include massages, facial treatments, and body treatments. The treatment is individually designed to meet the needs of the individual. 
Its signature massages are called Qitranquility, Qivitality, Qiharmony, and Qireflexology. The first three lasts for 90 minutes and worth Php1,330 while the fourth massage service is performed for 45 and 60 minutes for Php880 and Php980, respectively. 
Other massage services are lymphatic drainage, deep tissue, prenatal, hot stone, Swedish, and accupressure. Swedish massage and accupressure can be combined. The services cost between Php980 and Php1,330.
Qiwellness body treatments, further along, aim to stimulate the overall function of the skin. There are three offers namely Rose Reverie (purifying scrub, brightening wrap and lymphatic drainage massage), Jasmin Joy (uplifting and hydrating scrub and massage of choice), and Bamboo Bliss (deep cleansing, exfoliating scrub, and deep tissue massage).
All treatments last for up to 2 hours and 30 minutes  with the 75 minutes devoted to massage. Prices are from Php2,130 to Php2,580.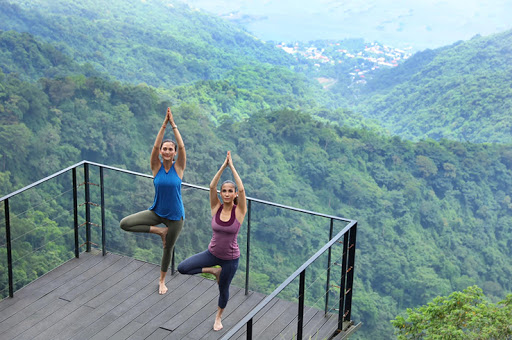 Source: Stephanie Zubiri
Nurture Wellness Village boasts of its Filipino spa services. It called its massages as "touch therapy." 
The spa house combines the restorative and healing power of various massage therapies. Each therapy, which is coupled with curative aromatherapy, is provided by trained therapists.
There are six packages called Hiyas Spa Package, Haplos Kalinga Touch Therapy, Pampering Natural Facials, Traditional Filipino Massage, Body Polish, and Indulgent Foot Treatments.
Hiyas Spa Package includes Kaaya-ayang Paglingap, a three-treatment, 180-minute pampering treatment. The inclusions are Mayumi Coconut Body Polish, Manggang Yakap Body Wrap, and Aruga Signature Body Massage. The package costs Php4,000.
There are four treatments under the Haplos Kalinga Touch Therapy, which basically involves floral soothing strokes and blended aromatherapy oils. The Magsing-Irog Massage, intimate couple massage, lasts for 60 minutes and available for only Php2,800 (good for two persons). Ginhawa and Kamagong Body Massages are good for 90 minutes and costs Php1,800 per head. Both heal body aches through light to strong stretching and strokes. Aruga, which lasts for 60 minutes and costs Php1,400 per head, is a total relaxation massage that uses Hulay massage oil (lavender, cedarwood, and grapefruit essential oils combo).
The Traditional Filipino Massage includes Nilaib (90 minutes, Php1,800), Hilot Kagalingan (60 minutes, Php1,200) and Lunas ni Nanay (90 minutes, Php1,600). Nilaib is the local version of hot stone massage. Hilot Kagalingan uses banana leaves and special herbs, while Lunas ni Nanay is massage using ventosa.
Pampering Natural Facials make the skin glow. The services include Mutya Natural Facial and Makisig Gentleman's Facial that last for 60 minutes and cost Php1,400. The first is a soothing facial to beautify the skin while the second is used to revitalize, detoxify, and relax the face.
Body Polish services offered are called Mayumi Coconut Body Polish and Kapeng Barako Coffee Scrub. Mayumi exfoliates the body while removing dead skins. Kapeng Barako, on the other hand, detoxifies the skin and stimulates the circulation of the blood. The treatments last for an hour and costs Php1,700.
Indulgent Foot Treatments are indigenous treatments. The first one is called Dagdagay Foot Massage that uses bamboo sticks to stimulate the soles and soothe the legs and feet. The second is known as the Hele Foot Spa, wrapping the feet and massaging them with the use of special oils. Both last for 60 minute, although Hele costs only Php990 while Dagdagay costs Php1,000. 
Advance and confirmed reservations are required, especially if you have a preferred timeslot. Walk-ins are accommodated depending on the availability of the spa therapists.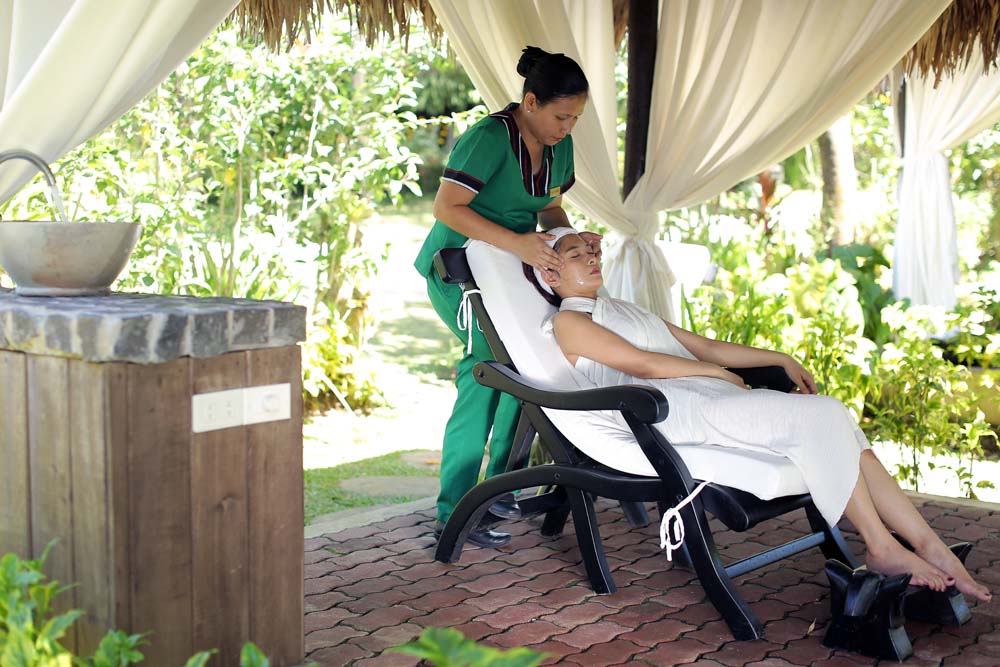 Source: Nurture Wellness Village
T House Tagaytay is basically an accommodation that offers spa packages for Php1,100. All packages include a massage (full body or shoulder and head and body scrub or revitalizing facial.  All packages last for 90 minutes.
Other spa services are full body massage including hot stone massage, traditional Filipino hilot or Red Ventosa for Php1,500 in 90 minutes each. The full body massage can e between 60 and 120 minutes with prices ranging from Php850 to Php1,600.
Destress Express is another service. This includes a back massage, foot massage, and shoulder and head massage. The massage is completed in 30 minutes for Php450. 
Body scrub and revitalizing facials are also provided to the guests or walk-ins. The body scrub lasts for 60 minutes for only Php1,250. The facials are available for 30 or 40 minutes for Php550 and Php750, respectively.
Finally, hand and foot care. Foot massage lasts for 60 minutes, for Php850, whereas foot spa can be between 30 and 60 minutes for Php450 and Php850.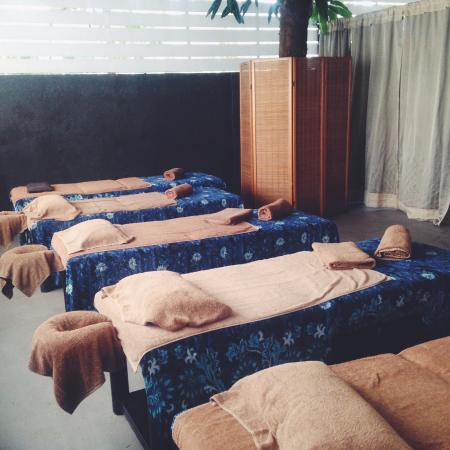 Source: Trip Advisor
Let relaxation flow! Visit any of these spas in Tagaytay for a well-deserved weekend break.